Westport's Noongar Advisory Group
Watch Video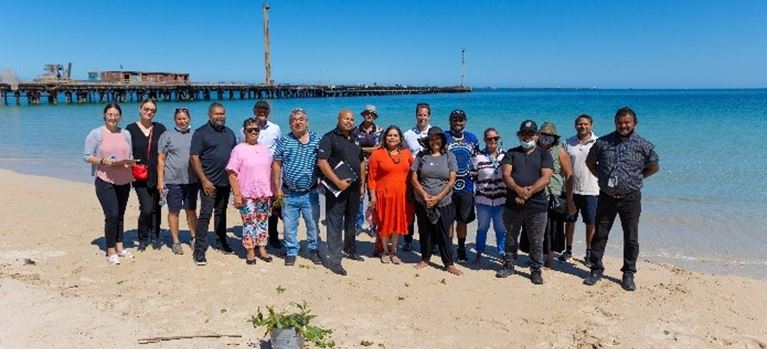 Cockburn Sound and the lands around it are rich with stories, places and totems of cultural importance that pre-dates the first container ship by tens of thousands of years. Westport will work with Noongar people to ensure that their values are recognised and drive planning decisions, that opportunity for their people and businesses are created, and their traditional ownership of the lands and seas is respected and honoured through this program.
Building on Westport's previous Kapi Biddi (Water Pathways) Strategy, the new Aboriginal Opportunities Strategy will ensure Aboriginal heritage sites are acknowledged, Aboriginal businesses can participate, and the traditional and ongoing connections of the Noongar people to country are recognised by Westport and the wider community.
In November 2021, around 100 Whadjuk and Gnaala Karla Booja representatives met to discuss the Program of works and nominate representatives for a Westport's Noongar Advisory Group. Ten Members and four stakeholders were selected through this peer nomination process. Members and stakeholders include local Noongar community leaders and Elders, and representatives from the South West Aboriginal Land and Sea Council.
Westport's Noongar Advisory Group will provide cultural, spiritual, community, wellbeing, economic, social and environmental advice to the Westport Program and promote culture and Country. The Advisory Group will also provide a conduit back to the wider Noongar community.
In addition, Westport will work with stakeholders and the Aboriginal community to develop opportunities for Aboriginal people and businesses as the program progresses.
Members of the Aboriginal Community, including Aboriginal business owners and the Noongar Chamber of Commerce, were invited to an introductory meeting to select members for Westport's Aboriginal Economic Opportunities Group, in early 2022. This group will use their commercial expertise and cultural knowledge to develop potential business, employment, procurement and training opportunities for the Noongar community.